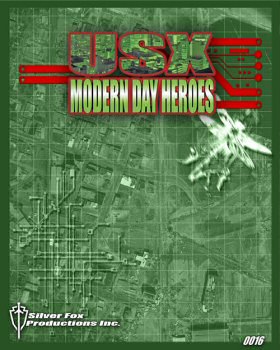 RAFM Miniatures, qui a survécu aux années noires revient à la vie ludique et sort en juin,
USX
, un nouveau jeu d'escarmouche se situant dans une période contemporaine/futur proche, basé sur le moteur de jeu,
Universal Soldier
(même mécanisme de jeu que le jeu de plateau/figurines fantastiques
Death in the Dark
).
En parallèle, RAFM propose sa gamme de figurines modernes,
Modern Day Heroes
, constituée de membres du SWAT, de terroristes, de flics en rupture, de sosies du King, de robots tueurs, de femmes fatales, ... et bien sur de zombies.
Difficile de savoir si USX va trouver sa place parmi les nombreux jeux d'escarmouche se situant dans la même période, d'autant plus que le matériel proposé pour l'instant en démonstration est plutôt
cheap
et très éloigné de la qualité de production moderne.
En revanche, là où je jubile, c'est que RAFM qui propose aussi les figurines pour Call of Cthulhu, propose un mixe entre ses deux gammes. Imaginez une équipe du SWAT affrontant des Profonds, hein imaginez!